Poland is working its way to the top of the European ranks in photovoltaics. In 2020, 2635 megawatts (MW) of solar power output was installed in Poland – more than thrice as much as in 2019 (823MW). This put Poland's PV market in fourth place in Europe, behind Spain (2,7 GW), the Netherlands (2,8 GW) and Germany (4,8 GW).
The cumulative installed PV power was 3935 GW. And all signs point to further strong growth. The Polish solar market is set to grow by 35 percent annually in the coming years, so that by 2024, the total PV capacity will have reached 8.3 GW. This is the intermediate scenario forecast by the European PV industry association SolarPower Europe in its latest EU Market Outlook. What, in the moment is rather conservative assumption.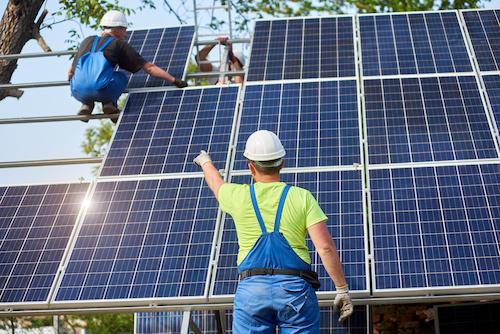 Solar Boom at Every Level
The Polish solar boom is happening at every level – from smaller, privately-owned rooftop PV systems and commercial rooftop systems to large free-standing installations. According to the Polish Society for Photovoltaics (PV Poland), the number of registered small-scale systems (below 50 kW) with an average capacity of 6.5 kilowatts (kW) grew from 155,000 (992 MW) at the end of 2019 to 457,400 (3 GW)at the end of 2020. These small-scale systems accounts for 75% of total PV power installed in Poland. It is worth to know, that there are around 4 GW larger PV projects with preliminary grid connection permits.
In addition to the sharp drop in the cost of photovoltaics and growing environmental consciousness, the market is being driven by a whole raft of incentive programs (e.g. My Current - €230 million, Clean Air, Thermomodernization, etc.). An incentive program called Agroenergia with a budget of €50 million is specifically geared toward farmers and offers low-interest loans or direct subsidies for the construction of solar power systems between 50 kW and 1 MW.
Strong Government Support
The Polish government introduced strong regulatory support. There are subsidies for PV systems for on-site consumption as well as for utility-scale facilities. Once example is the expansion of "balancing" programs, which is what the Polish call net metering, to small and medium enterprises in order to support prosumers.
Solar power systems with less than 50 kW also benefit from a reduction of sale tax (VAT) from the standard 23% to 8%. Furthermore, purchase and installation costs for PV systems can be offset against income what reduces personal income tax. Additionally, state-supported auctions are used to fund large-scale installations. One of the winners of the most recent tender back in December was an investment project for the construction of a 200 MW solar park in the Pomeranian Voivodeship.
Companies Becoming Climate-Neutral
Further to this, Poland is starting to see some large solar projects that do not rely on subsidies, such as a 64 MW solar park which is being built in Witnica, close to the German border. The electricity generated there will be sold to a local cement factory through a multiannual power purchase agreement (PPA). Also, a new factory in Konin (Wielkopolska Voivodeship) for battery cathode materials to be used in electric cars will be powered with 100-percent renewable electricity; a long-term supply contract has just been signed.
Increasingly, large companies are relying on solar power for self-consumption, for example, a leading manufacturer of metal furniture in Suwalki (Podlaskie Voivodeship) in northeastern Poland, which has recently started meeting its demand using a 2 MW roof-mounted and free-standing installation on the company premises.
Webinar Tip
Watch the recording of our English-speaking webinar entitled 'A Rising Star: PV Market Poland' in our webinar archive. After a short registration you have access to all past webinars.