Solar inverters are increasingly becoming smart all-rounders: They not only convert direct into alternating current, they are now used to analyze and control solar arrays and solar batteries as well as power-to-heat and smart home solutions. They include interfaces for digital communication and are connected with energy management systems which also incorporate electric vehicles and make smart charging possible. The growing number of inverter functionalities is primarily owed to digitalization, with innovation cycles becoming shorter and shorter.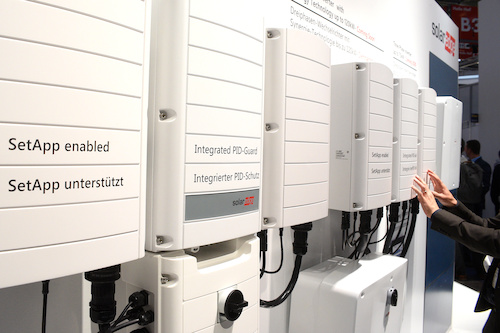 As an example, the latest three-phase inverter by a renowned manufacturer now has an integrated interface for DC-coupled battery storage systems. Excess solar power can be stored in the battery directly – without major conversion losses – and used as needed. At the same time, the inverter – which is available in a variety of power classes – controls, optimizes and monitors solar power generation. This helps households increase their solar self-consumption rate. The external interface allows for simple plug-and-play installation without the need for special cables and outdoor installation enables flexible battery placement. Maintenance is made easy thanks to remote access to the inverter and battery software.
More and more inverters are offering the option of integrating high-voltage batteries or heat pumps. Many will also automatically switch over to off-grid operation in the event of utility interruption and include reactive power compensation for operation at night.
The latest generation of inverters, which use silicon carbide instead of pure silicon as a semiconductor material, are also gaining popularity. The increased power density not only reduces the costs of a photovoltaic installation, but also makes installation easier thanks to the lower weight and compact design.
Intersolar Europe 2024 in Munich (June 19–21, 2024) is a fantastic opportunity for visitors to discover first-hand the most important developments in inverter technology.