Intersolar Europe: Solar Hybrid Power Plants Help to Ensure Stable Power Generation Using Renewable Energy
Press release – Monday, December 12, 2022
Munich/Pforzheim, December 12, 2022: The development of solar hybrid power plants is ramping up. Combining photovoltaics or wind power – or even both technologies – with large-scale storage systems is gaining in importance as a way of ensuring stable power generation using renewable energy from complementary sources. The electricity generated can be temporarily stored and fed into the grid as required. This is also opening up additional, increasingly lucrative business models like 24/7 direct electricity supply contracts. Solar hybrid power plants and their potential will be one special focus at the Intersolar Europe Conference on June 13 and 14, 2023 at the International Congress Center München (ICM). Multiple exhibitors will also be showcasing innovations in this field at Intersolar Europe 2023 from June 14–16.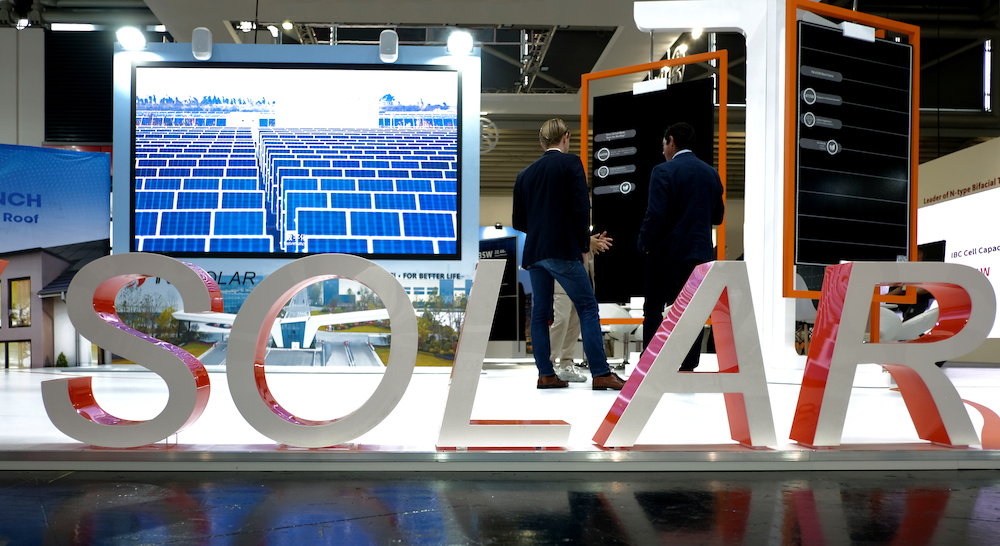 Hybrid power plants offer a solution to counter the volatility of renewable sources of energy. Photovoltaics (PV) and wind energy generation profiles are generally very compatible. While wind farms mainly supply large amounts of electricity on windy fall or winter days and at night, the same is true on sunny spring or summer days for solar farms. Batteries can temporarily store the electricity and feed it into the grid as required, allowing for optimum use to be made of grid capacity. What's more, batteries help to prevent electricity bottlenecks and shift generation in good time.
Reduced costs, land requirements and risks
With hybrid power plants, costs for project development and logistics can be cut since a combined power plant uses the same infrastructure, consisting of transformer stations, grid connections and transportation routes. Pooling the technologies in one place takes up less space, which is critical in densely populated countries like the Netherlands and Germany. This also reduces the overall financial risks associated with the plant.
Solar hybrid power plants with storage systems supply electricity more consistently, making financing easier through power purchase agreements (PPA). Additional business models also become possible, including grid services such as peak shaving and providing an operating reserve for grid stabilization. Electrolyzers that produce green hydrogen can also be incorporated into the business model.
Shared infrastructure for solar and wind farms
The first combined PV and wind power plants are already generating electricity, with others in the pipeline. For example, a 15.9-MW wind farm in Einöllen (Germany) has been retrofitted and had its capacity boosted by 3 MW of photovoltaics. In Turkey, a 26-MW solar farm is being added to a 103.2-MW wind farm near Konya, while a 16-MW solar farm is being added to a 52.8-MW wind farm near Kayseri. In the Netherlands, a 50-MW solar farm and a 50-MW wind farm are being combined to create a hybrid power plant with a shared grid connection. This is topped by the 30-hectare Haringvliet energy park in South Holland, which combines six wind turbines (22 MW), a free-standing PV system (38 MW) and a battery storage system (12 MW). The components share a grid connection and a transformer station, with a control unit ensuring smooth interaction between the technologies.
Electrolyzers are also starting to be added to solar farms to produce green hydrogen. In Vouzi Mantasia (Greece), plans are currently being drawn up for a power plant combining 200 MW of photovoltaics, a 100-MW battery storage system and a 50-MW electrolyzer with the capacity to produce 16 metric tons of hydrogen per day. Meanwhile, a 5-GW solar farm in combination with a 1.5-GW electrolyzer to produce hydrogen and ammonia is being planned for the state of Tamil Nadu in India.
Field reports and inspiration at the Intersolar Europe Conference
The potential of solar hybrid power plants is far from exhausted, meaning there is still plenty more scope to use more renewable energy and boost the efficiency levels even further. Field reports and inspiration relating to the generation and usage of renewable energy through hybrid power plants will be one of the topics of the Intersolar Europe Conference, taking place at the International Congress Center München (ICM) on June 13 and 14. Exhibitors will also be showcasing their innovations in this field at Intersolar Europe, the world's leading exhibition for the solar industry set to take place from June 14–16, 2023 at Messe München.
More about hybrid power plants is available on The smarter E Podcast.