Part 2 / 15 of the series "Solar architecture at its best – Excellent projects from the Architecture Award Building Integrated Solar Technology 2022 introduced briefly"
Novartis Pavillon, Basel (Switzerland)
AMDL CIRCLE and Michele De Lucchi chose an innovative approach for the Novartis Pavillon in Basel. The exhibition, meeting and event centre on the Novartis Campus has been designed with a circular floor plan and symmetrically bevelled roof. Above the glazed ground floor zone as far as the roof's apex, the façade and roof surface is wrapped in a netlike structure in which semi-transparent, diamond-shaped polycarbonate panels with organic photovoltaics (OPV) are held in place with point fixings.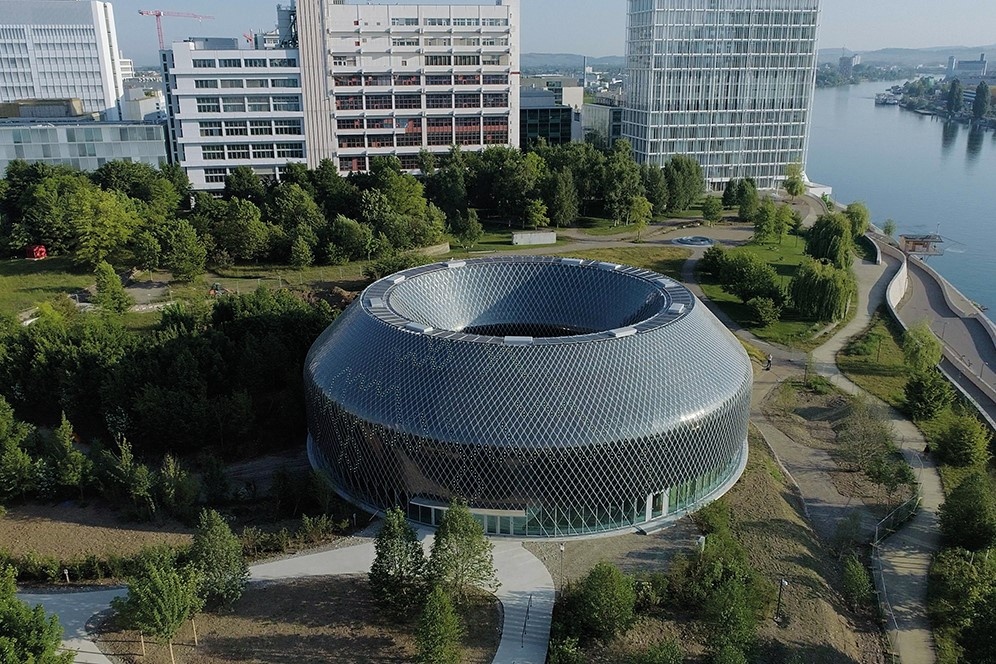 A zero-energy media façade was realised in collaboration with iart – Studio for Media Architectures. 10,680 modules in 10 different sizes are mounted across a 1,333 m2 area; the installed PV power is 36 kW. All modules, which are each attached via four brackets to a lightweight steel substructure, are equipped with four LEDs, two facing outwards and two facing inwards onto the building's metallic shell. The surface therefore functions both during the day and night as a multi-layered media screen that draws its energy from the OPV.
A rather delicately detailed concept whose underlying technology promises greater freedom in terms of the conceptual design and colour scheme.
The project received an honorary mention by the jury of the "Architecture Award Building-Integrated Solar Technology 2022".
Project partners
Architect: AMDL Circle
Local Architect: Blaser Architekten
Media façade: iart
OPV modules: ASCA
Get an Overview of the series Solar architecture at its best – Excellent projects from the Architecture Award Building Integrated Solar Technology 2022 introduced briefly"
About the Architecture Award Building Integrated Solar Technology
The "Architecture Award Building-Integrated Solar Technology" was started in the year 2000 by the Solarenergieförderverein Bayern (Bavarian Association for the Promotion of Solar Energy) and held since then for the 9th time. The award is established as an international competition concerning the interface between architecture and solar energy. The prize honors exemplary contributions of planning and designing building-integrated solar systems.
In the last edition of the competition the jury singled out 15 projects from 121 entries, which we want to present in a series. The jury was unanimous in its positive assessment that even with very different building tasks, and in different environments, these projects show that photovoltaic modules and solar thermal collectors can be successfully integrated with equal ambition in terms of design and technology.