Part 4 / 15 of the series "Solar architecture at its best – Excellent projects from the Architecture Award Building Integrated Solar Technology 2022 introduced briefly"
Manuel elementary school, Bern (Switzerland)
Manuel elementary school, which consists of a campus-style complex of pavilions and buildings built between 1945 and 1960, is listed as worthy of protection in the City of Bern's building inventory. As part of its overall renovation and extension by dadarchitekten, the roof surfaces of the four existing and two new buildings were almost entirely designed as energy roofs.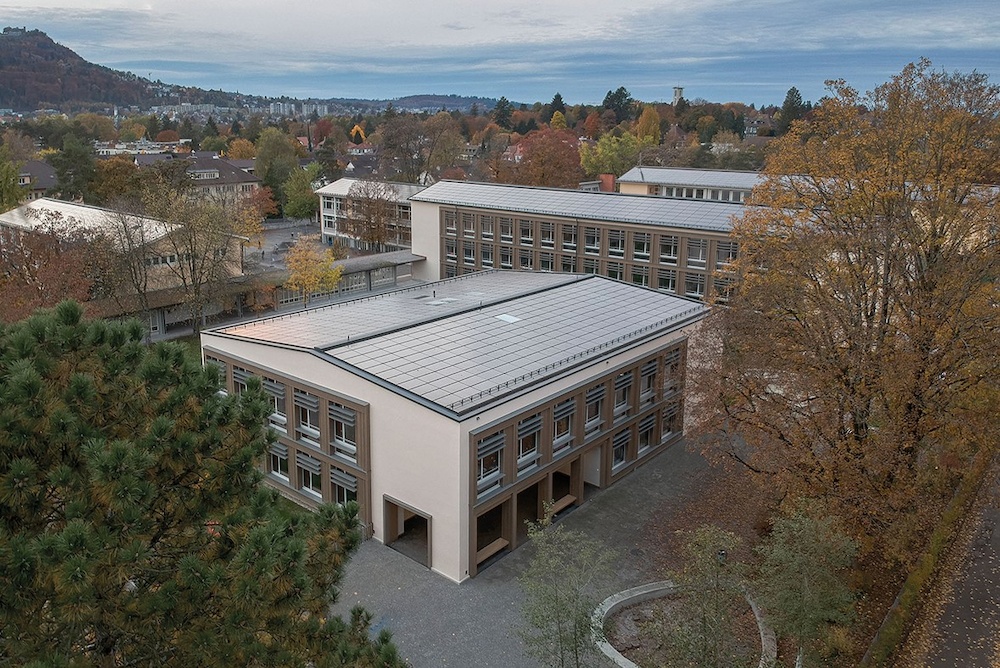 Covering an area of more than 1,300 m2, 3,148 modules generating 610 kW of PV power have been installed on the new roofs, which are partly oriented to the southeast/northwest or southwest/northeast. With a total energy yield of approx. 580,000 kWh/a, this enables two and a half times the school campus's own electricity requirement to be produced.
Penetrations were largely avoided. The edges of the verge, ridge and eaves were made of sheet metal matching the same colour as the anthracite-coloured modules, and the skylights were precisely fitted into the module grid. Despite the different roof pitches and building depths, this has enabled the photovoltaics to become the connecting element harmonising the building ensemble. The result shows in an exemplary manner that careful design work can also meet listed building requirements with assuredness.
The project received an honorary mention by the jury of the "Architecture Award Building-Integrated Solar Technology 2022".
Project partners
Client: Stadt Bern
Operator and owner of the PV system: Energie Wasser Bern
Architect, general planner: dadarchitekten GmbH
Technical planners: varrin & müller, Ingenieurbüro für Gebäudetechnik AG, eicher + pauli, energie + planung, Weber Energie + Bauphysik
Plant engineering: Guggisberg Dachtechnik AG
PV modules: 3S Swiss Solar Solutions AG
Get an Overview of the series Solar architecture at its best – Excellent projects from the Architecture Award Building Integrated Solar Technology 2022 introduced briefly"
About the Architecture Award Building Integrated Solar Technology
The "Architecture Award Building-Integrated Solar Technology" was started in the year 2000 by the Solarenergieförderverein Bayern (Bavarian Association for the Promotion of Solar Energy) and held since then for the 9th time. The award is established as an international competition concerning the interface between architecture and solar energy. The prize honors exemplary contributions of planning and designing building-integrated solar systems.
In the last edition of the competition the jury singled out 15 projects from 121 entries, which we want to present in a series. The jury was unanimous in its positive assessment that even with very different building tasks, and in different environments, these projects show that photovoltaic modules and solar thermal collectors can be successfully integrated with equal ambition in terms of design and technology.