The smarter E Podcast Episode 57 | July 22, 2021 | Language: German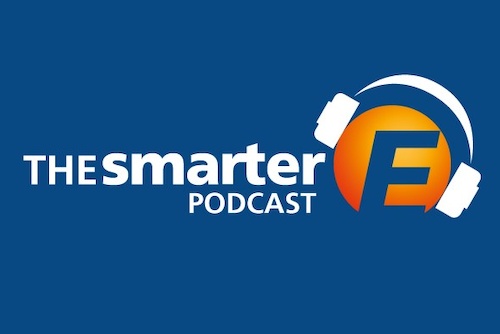 Green hydrogen is a key element for the transformation and decarbonization of the energy system. With the National Hydrogen Strategy, policymakers already made a clear commitment to green hydrogen last year, with demand to be met primarily through imports from abroad. But domestic production of green hydrogen also seems possible. How can it succeed? And what role does the combination of wind and solar play in this?
We talk about this today with Dr. Raphael Niepelt, coordinator of the solar energy research line at the Institute for Solar Energy Research (ISFH).
About The smarter E Podcast
The smarter E podcast is all about the current trends and developments in a renewable, decentralized and digital energy industry. Our moderators Tobias Bücklein and Zackes Brustik welcome and interview personalities who shape our industry and drive developments forward. A new episode is published every Thursday.
Click on the logo to listen to the podcast on the platform of your choice.
About Dr. Raphael Niepelt and the ISFH
At the Institut für Solarenergieforschung GmbH Hameln (ISFH), innovative components for photovoltaic and solar thermal utilization of solar energy are developed. The physical understanding of the individual components and the development of cost-effective manufacturing processes are the focus of interest. The components produced at the ISFH are tested in energy systems, because it is often the behavior in the system that determines the success of a development. Dr. Raphael Niepelt leads numerous projects at the institute as coordinator research line solar energy and has already been at ISFH since 2012.
This Podcast Episode is Supported by