The smarter E Podcast Episode 145 | August 10, 2023 | Language: German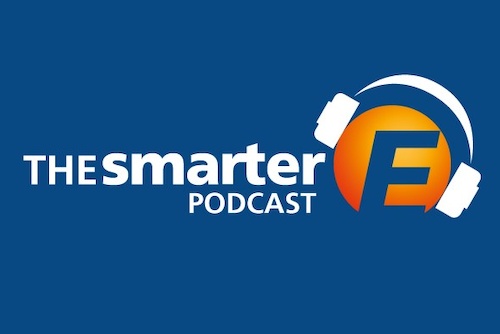 Added value through parking lot PV: Photovoltaic roofing on parking lots has been mandatory in parts of Germany since 2022. Environmentally friendly solar energy can be generated over sealed surfaces of parking lots. A nationwide installation of PV systems on parking lots in Germany would correspond to a potential of 59 GWp capacity. This means that parking lot PV alone could cover the electricity needs of more than 17.2 million households. What are the concrete advantages of parking lot PV? What are the technical requirements for planning and installation? And what about the economic viability?
We talk about this with Antonia Gordt, Project Manager at Solar Cluster Baden-Württemberg e.V. and Jens Ritter, Sales Manager at ClickCon GmbH & Co. KG.
Timeline:
01:01 How do PV parking lots and PV carports work and what are their advantages?
05:33 What are the different systems, especially anchoring and roofing?
09:48 How is the solar energy generated from PV parking lots and PV carports used, and how can the excess energy be stored?
12:44 What technical requirements need to be considered when designing and installing PV parking lots and PV carports?
18:29 What role do PV parking lots and PV carports play in promoting electromobility?
About The smarter E Podcast
The smarter E podcast is all about the current trends and developments in a renewable, decentralized and digital energy industry. Our moderators Tobias Bücklein and Zackes Brustik welcome and interview personalities who shape our industry and drive developments forward. A new episode is published every Thursday.
Click on the logo to listen to the podcast on the platform of your choice.
About Antonia Gordt and Solar Cluster BW
Antonia Gordt is on assignment at Solar Cluster Baden-Württemberg e. V. as a project manager. Solar Cluster Baden-Württemberg e. V. represents and networks around 70 companies and research institutions from all parts of the solar value chain. The goals of the industry association are to accelerate the expansion of solar energy in Baden-Württemberg and to support the regional solar industry.
About Jens Ritter and ClickCon
Jens Ritter acts as sales manager at ClickCon. ClickCon has been active in the field of solar projects worldwide for over 10 years. With the in-house developed and patented in-roof mounting system "ClickPlain pro" PV-roofs in all sizes and variants can be realized. Due to the flexible and innovative in-roof system, in principle any framed standard module can be used as a conditionally rainproof and transparent PV roof without additional sub-roof and without rubber seals. ClickCon offers modular standard solutions as well as special solutions developed on customer request.
Content Partners