Following more than a decade of fruitful partnership, SolarPower Europe and Intersolar Europe sign a new agreement to reaffirm their joint commitment to support Europe's massive solar expansion.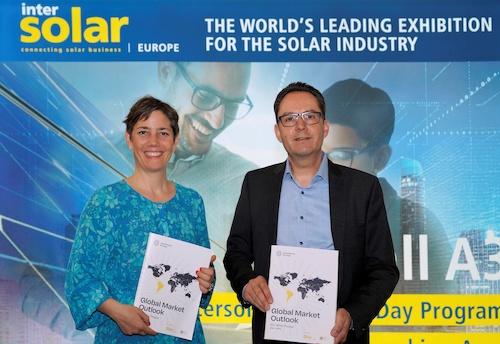 Intersolar Europe 2022 exhibition in May has been a success – and SolarPower Europe joined this success by reinforcing its support for Europe's largest solar trade show. As part of this renewed partnership, Intersolar Europe retains exclusive launch rights of SolarPower Europe's industry-leading annual Global Market Outlook for Solar Power.
Alongside the Global Market Outlook, SolarPower Europe continues to support Intersolar Europe's sector-defining solar conference and exhibition. This year the leading exhibition for solar power brought important issues like energy independence, domestic manufacturing, silicon supply chains, and the resurgence of European markets on the conference table.
The partnership will continue with even more key dates for the solar calendar, with the Solar Quality Summit Europe in January 2023. The Solar Quality Summit brings together most important players of the solar business to explore and implement best practice in O&M, EPC and Asset Management, with the latest edition taking place in Barcelona, Spain.
Walburga Hemetsberger, CEO of SolarPower Europe, said: "The landmark EU Solar Strategy marks a new dawn for Europe – with a new 750 GW solar target for 2030, long-awaited rooftop solar mandates, and a European Solar PV Industry Alliance. We are delighted to continue our partnership with Intersolar Europe at this critical time. This latest agreement ensures that together SolarPower Europe and Intersolar Europe can support the solar sector with invaluable networking and market intelligence at one of the solar sector's most unmissable events."
Markus Elsässer, Intersolar Founder and CEO of Solar Promotion, said, "We expect an accelerated and long-lasting upturn in the European solar markets. With Intersolar Europe, the largest European trade fair for the solar industry, and other joint activities, we want to continue to support the industry together with SolarPower Europe by bringing people and markets together true to the motto of Intersolar "Connecting solar business".