Press Release – Tuesday, June 13, 2023
SolarPower Europe's flagship Global Market Outlook for Solar Power finds that, for the 9th consecutive year, global solar power has broken its annual installation record with 168 GW of new solar PV capacity in 2021. In 2022, global solar is expected to continue the decade-long record-breaking streak, installing more than 200 GW of solar for the first time.
Download the Global Market Outlook for free
With 118 GW of new rooftop solar installations worldwide in 2022, the equivalent of 36 million more homes globally is powered by solar.
Global solar smashes annual installation record for the 10th year in a row, with 239 GW of new solar installed in 2022.
More countries than ever are real solar contenders, with 26 countries installing at least 1 GW in 2022, up from 17 in 2021 (full list below).
It's not all sunshine: 20 of the biggest solar markets report electricity grids and flexibility as a key challenge.
A special focus on Southeast Asia reveals how the region is using solar to develop more resilient and sustainable energy systems.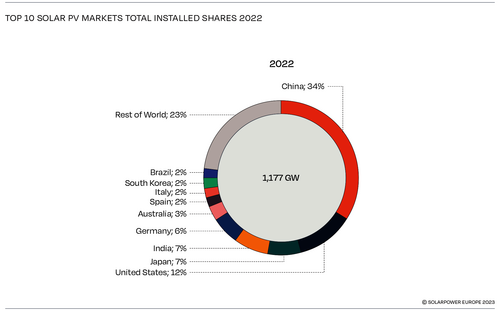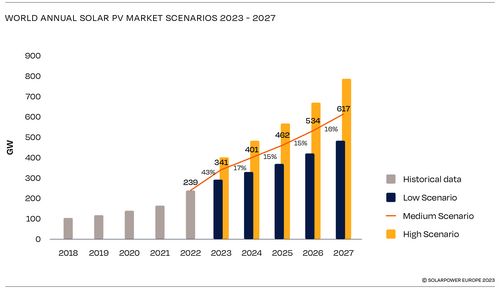 ©SolarPower Europe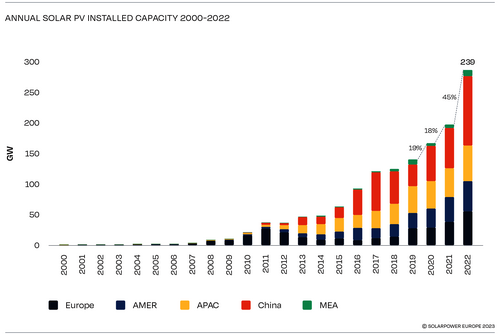 ©SolarPower Europe
MUNICH, Germany (Tuesday 13 June 2023): Solar is powering more people, in more parts of the world, than ever before, a new report from SolarPower Europe reveals.
Last year, the world's rooftop solar capacity shot by 49%, from 79 GW in 2021 to 118 GW. That means the equivalent of 36 million more homes were powered by solar by the end of 2022. The rooftop boom will continue in 2023, with another 159 GW set to be installed.
In 2022, the number of major solar countries – installing at least 1 GW annually – grew from 17 to 26. By 2025, the Global Market Outlook for Solar Power predicts that more than 50 countries will be installing more than 1 GW of solar per year.
Aristotelis Chantavas, President of SolarPower Europe said: "The world has realised that fossil fuel crises are the crises that never really go away. More than ever before, people in every part of the world are turning to solar. In a year defined by energy and climate crisis, solar hope continues to shine through."
SolarPower Europe's latest annual Global Market Outlook reports a decade of the world breaking its own solar installation record annually. The world installed 239 GW of new solar in 2022, an increase of 45% from 2021.
With over 1.2 TW of solar now installed worldwide, solar will generate 1,612 TWh of electricity globally over the course of 2023 – equivalent to 57% of the European Union's total electricity demand.
The forecast is bright – between 341 and 402 GW of solar will be installed worldwide in 2023. From a total TW solar fleet today, the world could be installing 1 TW of solar annually by the end of the decade – hitting up to 800 GW per year already in 2027.
Despite the positive outlook, challenges remain. Limited grid capacity, and a lack of flexibility or storage in national electricity systems, is posing a critical risk to the global solar transition. Out of the 26 significant solar countries, 20 report grid bottlenecks as a key barrier to solar development.
Michael Schmela, Director of Market Intelligence at SolarPower Europe: "Grids and flexibility are the sleeping giant of the energy transition – and the giant is waking up. We're installing huge amounts of solar, and we need to be able to use it, when we need it. Governments around the world must make upgrading their electricity and storage infrastructure a political priority."
This year's report also zooms in on the role of solar in Southeast Asia. With total solar capacity of 32 GW in the region, 3.4 GW was installed last year, slightly down from the 4.2 GW installed in 2021.
Southeast Asia's solar boom year, 2020, is hard to beat, when strong frameworks in Vietnam led to 13.1 GW being installed in the region.
Nevertheless, bright prospects remain, with an upward trend expected in 2023 bringing 3.8 GW. The region's irradiance, increasing electricity demand, declining costs, and supportive government policies could lead to more than 20 GW of annual solar installations by 2027.
Tetchi Capellan, General Secretary of the Asian Photovoltaic Industry Association said: "Solar's technical and cost profile makes it an ideal solution for Southeast Asia to decarbonise its economies, while bringing clean, democratised energy to its growing populations. The Southeast Asian solar boom is just beginning!."
Launched at Intersolar Europe in Munich, the Global Market Outlook for Solar Power is produced in partnership with the Global Solar Council.
Download the Global Market Outlook for free
Notes:
The table below shows the 26 countries that added at least 1 GW of solar power in 2022. Countries are ranked by amount of solar they installed. Within the Global Market Outlook, you can find a dedicated chapter for each of these countries.
Where we translate GW installed into homes powered, we are using the conversion 1 GW = 305,000 Belgian homes.
Where we reference EU electricity demand, we are working with data from Ember.
About SolarPower Europe
SolarPower Europe is the award-winning link between policymakers and the solar PV value chain. Our mission is to ensure solar becomes Europe's leading energy source by 2030.
As the member-led association for the European solar PV sector, SolarPower Europe represents 300 organisations across the entire solar sector. With solar sitting on the horizon of unprecedented expansion, we work together with our members to create the necessary regulatory and business environment to take solar to the next level.
About the Global Solar Council
The Global Solar Council is the voice of the world's solar energy industry, a non-profit body based in Washington D.C. representing national, regional and international associations as well as leading solar sector corporations.
Founded at the 2015 Paris climate conference as a private-sector response to the climate emergency, the Global Solar Council brings together associations from both established and emerging markets that represent companies all along the solar supply chain.
About the Asian Photovoltaic Industry Association
Asian Photovoltaic Industry Association (APVIA) is the largest organization representing the PV industry in Asia. It was founded on 16 January 2009 after granted approval by the Corporate Regulatory Authority (ACRA) of Singapore.
A non-profit social organization, APVIA consists of PV enterprises, scientific institutions and other relevant organizations in Asia under the principle of voluntary enrolment. Over 3 years of planning and preparation, APVIA was successfully launched on 31 October 2011 in Singapore during the Singapore International Energy Week. Business scope of the association covers information and academic exchange, technical consultation, project demonstration, quality standards, market service, education and training.
About Intersolar Europe
Intersolar Europe is the world's leading exhibition for the solar industry. It takes place as part of The smarter E Europe – the continent's largest platform for the energy industry. It focuses on photovoltaics, solar thermal technologies and solar power plants.
Under the motto "Connecting Solar Business," manufacturers, suppliers, distributors, service providers and project planners and developers from around the world meet in Munich to discuss the latest developments and trends, explore innovations firsthand and meet potential new customers. Intersolar Europe will take place from June 14–16, 2023, at Messe München.