News - Tuesday, March 15, 2022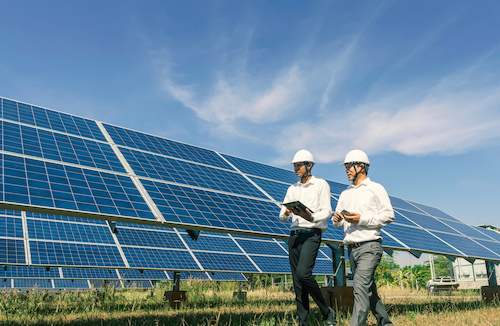 PV power plants as important market drivers
The global photovoltaic market continues its strong growth path in 2022. This year, the level of 200 gigawatts (GW) newly installed PV capacity will be reached for the first time, according to SolarPower Europe's Global Market Outlook 2021-2025. The major part will be provided by large PV power plants – and its share is only growing. Record-low electricity generation costs make largescale solar plants increasingly attractive tools for government-initiated power auctions to reach their climate targets. Demand for solar from large power plants is also quickly growing through Power Purchase Agreements (PPAs) that enable corporates and utilities to source clean and low cost electricity. Currently, exciting technological advances can be observed, from bifacial modules to tracking systems to floating PV systems, the range is wide.
Combination with large-scale storage facilities in trend
Artificial intelligence is increasingly being used to optimize the operation and maintenance of PV power plants using real-time data. Among other things, this enables predictive maintenance, which helps to minimize failures and performance losses. The combination of PV power plants with large battery storage systems is becoming increasingly popular. In addition, this helps stabilize power grids. Operators can offer grid services such as frequency and voltage maintenance as new business models. There is also great potential for integrating them into microgrids or using them as buffer storage for fast charging of electric cars.
At the Intersolar Europe Conference (May 10-11, 2022, ICM - International Congress Center Munich), you will learn everything about Markets, technologies and financing of PV projects at first hand. You can find more information about the program here.