Industry News – October 27, 2023 | Sarah Hommel de Mendonça
According to the latest survey by European solar association SolarPower Europe,648,000 people were working in the European solar industry at the end of 2022.
What's so special about that? PV deployment rates have skyrocketed, and so have job opportunities: There were 466,000 jobs back in 2021 – that's a 39 percent increase over the previous year! SolarPower Europe estimates that the solar industry could employ a million people by 2025.
Poland leads the solar jobs league table
According to a 2022 study, the Polish solar sector had the largest number of full-time skilled workers in all of the European Union. With 150,000 skilled workers, it accounted for 23 percent of the total number solar jobs. Next are the solar nations, Spain and Germany with 103,000 and 96,000 solar workers, respectively
Assembly makes up the lion's share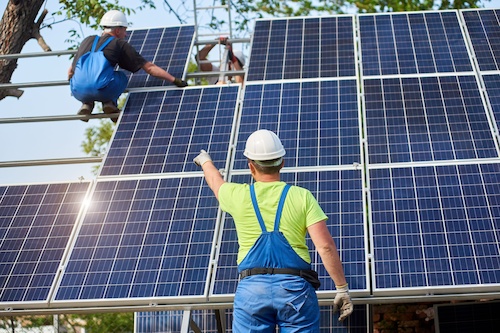 At 84 percent, the vast majority of solar jobs today are in assembly and installation. Operation and maintenance (O&M) make up 8 percent, PV production 7 percent, and decommissioning and recycling 1 percent. 2022 was actually the first year that O&M jobs accounted for a larger share than jobs in PV production, which is quite remarkable.
This can be explained by the very high number of PV installations and the relatively slow expansion of production capacities in the EU. Although the number of jobs in O&M and PV production is expected to grow slightly, assembly will continue to make up the lion's share.
PV production jobs: Inverter manufacturing dominates
Within PV production, the largest number of people – around 48,200 or 73 percent – in Europe are employed in inverter manufacturing, as many large companies are located on the continent. With only 750 jobs, ingots and wafer manufacturing and cell manufacturing account for the smallest share in the EU.
Roof-mounted systems generate more jobs
A large part of jobs in the roof-mounted system segment, which requires a high level of human resources, is emerging in the areas O&M, and assembly and installation. In the EU, 73 percent of all installers and the majority of skilled O&M workers work in the rooftop segment (which comprises residential, commercial and industrial buildings).
2022 marked the first year in which more than half of all solar jobs in the seven largest EU solar markets – Poland, Spain, Germany, the Netherlands, Italy, Greece and France – were in the rooftop segment.