Expert Interview – September 29, 2023
The quantity of used PV modules is growing slowly but surely, and the question of what should happen to them is an issue that is gaining more and more traction within the PV industry. The two preferred options are recycling or giving them a second lease of life elsewhere. Tom Reiling, CEO of Reiling PV-Recycling GmbH & Co. KG, explains the latest state of the art PV recycling solutions, the criteria used to determine recycling capacities, and how the market for second-life modules actually works.
Reiling PV-Recycling is currently in the process of opening a PV recycling plant in Münster, Germany, with a capacity of 50,000 metric tons of PV modules per year. However, the quantity of waste generated by PV is still regarded as relatively low, and there are no guarantees that commercially operated PV recycling plants can be considered an economically viable operation. What is your current standing in this market and what were the reasons behind your decision to invest in the Münster site?
We worked on the assumption that it could become profitable once we reached 10,000 metric tons. But you have to bear in mind that the PV recycling arm of our business did not start out from nothing. We've been processing this substance flow in Reiling's glass recycling division for several years and now we've formed a separate company. Last year we accepted approximately 5,500 metric tons. That equates to around 275,000 modules. This year we're expecting this quantity to increase significantly, as the very first PV parks are due to appear towards the end of the year. And when these parks are returned, we're talking about 500 or even 1,000 metric tons arriving all at once, which is another scale entirely. Recycling is still not economically viable, because the quantities are still too low to run an economically viable operation. But I see this potential increasing over the next one to two years, particularly if even more secondary raw materials can soon be recovered.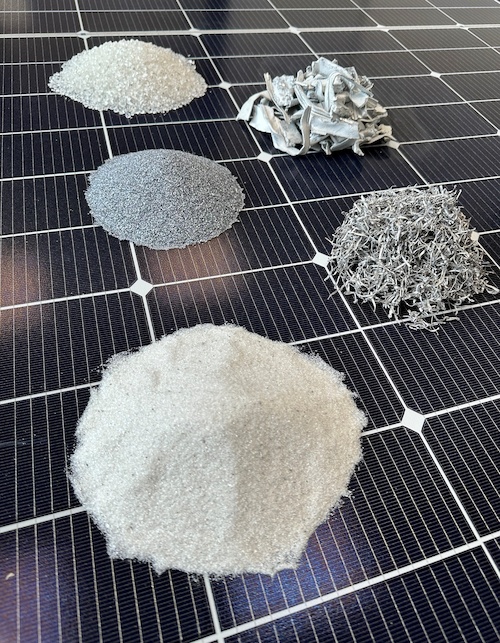 What percentage of materials can currently be recovered? And what percentage is actually suitable for the production of new solar panels?
70 to 80 percent of a PV module is made from glass. That's why, as a glass recycling company, we opted to include the module in our portfolio. Our main focus at the moment is glass recycling and, in turn, producing high quality glass. Then we have aluminum frames, cables and junction boxes, which can all be removed fairly easily. It gets rather more challenging, of course, in the case of silicon and precious metals. We joined forces with Fraunhofer CSP to devise a concept that enabled us to also turn our attention to these scarce raw materials using our mechanical reprocessing method. But when it comes to recovering silicon, we're still only just getting started. The process has already been developed, so now we have to scale it up accordingly at the Münster plant.
We're now developing a recycling concept piece by piece at the new site in Münster. You have to imagine a scenario where one system does this, then the second system is responsible for something else, as is the third. We're currently focusing on using recycled glass to produce high quality glass that can be directed back to the flat glass industry. I'm a little more skeptical about whether the condition is good enough for it to be used to manufacture glass for photovoltaics again, as the standards that apply to PV glass are extremely high. But if it can be used to produce a window pane or something similar, then that's a good indication that we've already done enough in terms of quality. In addition, there are hardly any glassworks in Germany that manufacture PV glass. To avoid transporting fragments of glass to other countries unnecessarily, a better option, in our view, is to use it in the float glass industry.
So you're saying that the goal at the moment is to improve glass recycling to the point where it can be used to make flat glass again?
Exactly. The first step of the process involves removing the aluminum frames and cables. It's easy for a company that recycles cables to recycle the copper. They can also be used to produce new cables. New frames can be made out of the aluminum frames, too.
Glass is our main focus at the moment and we're working on increasing quality to meet the high standards required in the flat glass industry. As for the film containing materials such as silicon and silver, we're already doing the recycling for that at the same time. Once the silicon and silver have been separated from the other materials, you then have to decide whether to chemically separate the silicon and silver from each other. But that raises the question of whether or not that is still economically viable.
What are the different methods currently used for PV recycling, which methods are used at the new Reiling PV recycling site in Münster, and what are the advantages of these in comparison to other methods?
Economic viability is a key factor, as is feasibility. This links back to the first question. If we're talking about a quantity of 5,500 metric tons worth of end-of-life modules needing to be recycled, that equates to around 275,000 modules overall. A recycling concept has to be based on being able to handle the quantity that is returned. There are two or three interesting start-ups on the market that are able to break down the module's individual components. But when it comes to throughput in the plants, we envisage problems arising.
The Hot Knife method involves using a hot knife to cut away the film. Another method entails milling off the back sheet, or even removing it with a jet of water. There are ways to chemically remove the laminate. The suitability of all these methods largely depends on the type of module, but the condition of the module when it arrives for recycling is also a major factor. For example, a module may have broken glass or be severely bent.
Our background is flat glass recycling, which means we use a normal, mechanical process. Firstly, we break up the module to remove the laminate and then we separate this substance flow on the basis of physical properties. A given material may be, for example, a non-ferrous metal, or have conductive or magnetic properties. They are separated through density separation. We do, however, always keep abreast of developments in the latest methods and are open to adding new approaches to expand our current processes. The major advantage of our mechanical approach is that we can recycle on an industrial scale, regardless of the size, structure, or condition of the PV module.
Does the idea of recycling a solar cell further down the line play a role in its design? If not, how can factors that research has shown lead to improved recyclability become more integrated into the cell design in future?
Our experience in glass recycling has shown that getting manufacturers on board has always been a challenge. In the case of PV, new modules are designed to be as indestructible as possible, because they are required to work in the field for as long as possible. And that's how it should be. But, in some respects, newer modules are more difficult to recycle than older ones. Films and glue bond to each other far better nowadays and that of course makes it harder when it comes to recycling. As a recycling company, we're very used to that. More often than not we're presented with a fait accompli.
The Münster site is also going to have a test lane to ascertain whether a module goes straight into recycling, or whether it could be considered for reuse, known as repowering. How is that testing carried out and what is the market currently like for second-life modules?
If we decide that these modules are suitable for reuse, we test them ourselves using the same machines as the manufacturer. Right from the start we installed many modules on our roofs ourselves and sold them to our employees. In future we'd like to set up an online shop to sell modules. At the moment, we don't receive many modules that are worth reusing. A lot of modules that are returned are actually still intact. The question is always whether it's worth reusing them. Is it economically viable? Particularly now, when the price per module has fallen so sharply. We've made bids where the response has been that the new modules are also very cost-effective and come with a 25-year guarantee. The second-life module market is still strong. But if the price for new modules continues to fall, this will make things more difficult in the future. And you have to remember that the testing process also has a cost attached to it. So we have to think about economic viability as a whole.
What happens in the test lane? What criteria does a module have to meet in order to be classified as reusable in this process?
When a module reaches us, the first thing we do is look to see if it's damaged. Then we check the module label to ascertain the level of nominal power. And we ask ourselves whether the testing process makes sense from an economical perspective. During testing we often discover that the degradation of used modules is less severe than expected. The modules must be electrically safe and still have sufficient output. Various quality criteria are used to assess the PV modules and direct them back to the most appropriate areas of application.
Tom Reiling spoke to Sarah Hommel de Mendonça