Expert Interviews – Thursday, June 18, 2020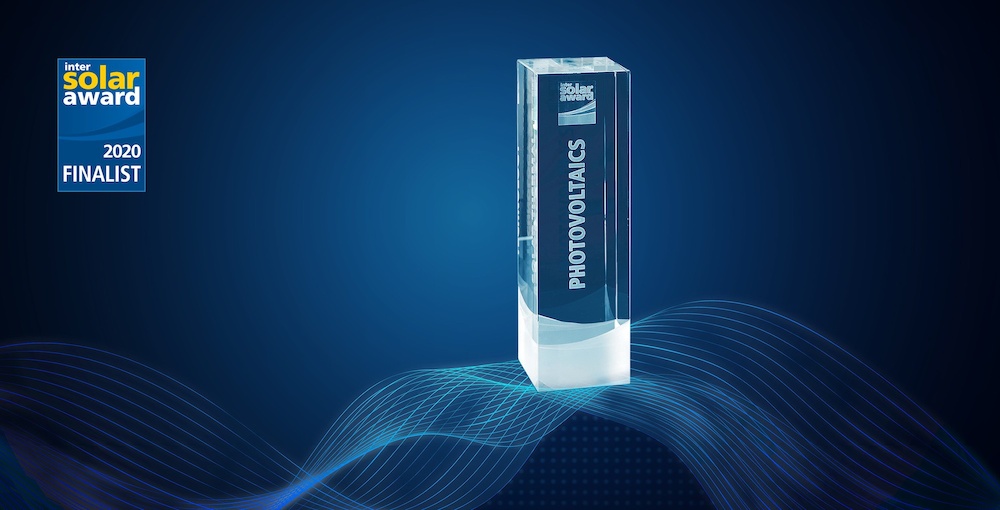 Innovations in the solar industry are driving the modernization of the energy infrastructure worldwide. Every year, the Intersolar AWARD in the category Photovoltaics honors all companies that already contribute to an intelligent, sustainable and cost-effective energy supply.
On June 4, 2020, this year's Intersolar AWARD Finalists 2020 were officially announced. We interviewed them exclusively and asked them about the importance of the finalist nomination, their innovation and the need for future innovation in the renewable energy industry.
Thanks to all nominated companies and interview partners (who took part in the interview):
Ampner Ltd. OY – Mr. Mika Jantunen, CEO (Ampner)
Eturnity AG – Mr. Matthias Wiget, CEO (Eturnity)
Ferroamp Elektronik AB – Mr. Bjoern Jernstroem, CTO (Ferroamp)
Fronius International GmbH – Mr. Leonhard Peboeck, Product Marketing (Fronius)
Trina Solar (Schweiz) AG – Mr. Gonzalo de la Viña, Head of European Module Business (Trina)
Zhejiang Jinko Solar Co., Ltd. – Mr. Roberto Murgioni, Head of Technical Service and Product Management EU (Jinko)

What does the nomination mean for you and your company?

Ampner: Being nominated as a finalist for Intersolar AWARD is an achievement we are proud of! It strengthens our outlook that we are on the right track. Our R&D team has worked hard to materialize their vision on the ultimate string inverter and now the hard work starts to pay off. Nomination is a great way for us to enter the industry as a manufacturer and get the product recognized by the major players.
Eturnity: It's definitely a big honor for us to be one of the finalists for the Intersolar Award 2020. To a large extent, the motivation for the development of our solution was based on our own experience. We wanted to find a solution to sell renewable energy systems in a more efficient and customer-friendly manner.
Being in the final round for the Intersolar Award shows us that our solution is receiving wide recognition in the industry.
Ferroamp: We are very happy to receive this recognition from the Intersolar award nomination. This will help to further increase the awareness of DC grids and DC solutions as a versatile and cost effective means of integrating renewable energy resources such as PV, storage and electric vehicles to name a few. The nomination will also help in our marketing to promote our new solar string optimizer towards a global audience.
Fronius: Since Intersolar is a worldwide leading trade fair for the entire solar industry, connecting companies and people all over the world to increase the share of solar energy supply, it is a great honour for Fronius to be nominated for the Intersolar award 2020
Trina: We are very happy and proud that our new Vertex series has been selected as finalist of the prestigious Intersolar Award. This goes to show that we are on the right track in our relentless effort to maximize module power output and further reduce levelized cost of electricity (LCOE). For us, the nomination is proof that innovation and dedication will pay off, not only for our company, but for the solar PV industry and for the benefit of mankind.
Jinko: We are very proud to be recognized as one of the finalists of the Intersolar Award 2020. Such recognition proves that Jinko's strategy to continuously increase our R&D investment and position the company as one of the technology and innovation leaders is very successful and allows our key customers to differentiate from the mainstream market.
What is special about your innovation?

Ampner: The Ampner ACE™ 300 PV inverter is the lightest, most compact string inverter with the highest power density in the industry, designed for very demanding outdoor conditions. We have designed our product with simple and powerful design philosophy without compromising reliability. Our experienced product developers have background from central inverters and other high-power converters, which means we are used to design equipment to handle high power levels with compact packaging. The 1500 VDC and 690 VAC voltage ratings provide optimum operation for all cases and it is compatible with ever increasing PV module ratings. Operation range from -40°C to 60°C and operation at high elevations, up to 4000 m, are also something that our design enables. Unique in the product is also that power unit in PV and ES applications is identical, something that makes it very competitive for hybrid solutions.
Eturnity: What makes it special is that it's an all-in-one and one-for-all-solution. Meaning it is an all-in-one, highly integrated solution for everything that is needed for successful lead-generation and sales of renewable energy systems. For the first time, the software enables the combination of different technologies such as PV systems, battery systems, heat pumps, and e-mobility. It also features individual cost structures, highly customizable and customer-friendly sales reports as well as focused CRM-features to support effective sales. This makes the software the first digital, mobile assistant that helps save up to 80% of the typical quotation time & allows more time for acquiring new customers. One-for-all-means that the prosumer also benefits not only from better quality consultations but also from its automatic simulation process by getting a quick, understandable overview & analysis.
Ferroamp: Our new solar string optimizer, SSO, is a complete packaged solution for connecting PV strings to a growing number of generic DC applications. Our new SSO is integrated with all safety features, monitoring and configuration possibilities that are available in high end string inverters. Thanks to the latest silicon carbide technology the new SSO reaches 99,5% efficiency. It further has 100% power throttling capability to enable use in off-grid and battery charging applications where it may not be possible to utilize all available solar energy.
Fronius: The all in one GEN24 Plus combines all important features of a hybrid inverter in one device. With demand-oriented backup power options, the advanced active cooling technology, high charg- and discharge power or the unique installation and service concept, the hybrid inverter is one of the most innovative products on the market
Trina: Vertex sets a new industry standard with 500W+ output power and 21%+ efficiency. To achieve that, Vertex combines several innovations that make it stand out: First to use large 210mm wafers; industrial manufacturing of 1/3-cut cells; non-destructive cell cutting; a new method for automated panel layout; uniform, laminated welding. All this helps to achieve steady mass production. Combining advanced three-piece, non-destructive cutting and high-density packing reduces resistance losses and improves anti-hot spot performance while maximizing the active surface. It eliminates the potential risks of ultra-high power modules: voltage, current and thermal overload, micro cracks, or running afoul of DC terminal limits. The unique module design ensures compliance with electrical and mechanical safety specifications. Vertex connects seamlessly with mainstream PV system design and BOS components.
Jinko: The success of Jinko Solar's innovation is given by the fact that the complete vertically integrated structure and the inhouse R&D capabilities enable to introduce new technologies into finished products based on mature and reliable solutions already proven in the field for many years, which allows them to be well accepted by the downstream market and effectively integrated into the BOS in the PV system to optimize the LCOE level and ROI ultimately.
What future innovations does the renewable energy industry need?

Ampner: Innovations shall focus on lifetime LCoE by pushing up reliability with decreased O&M cost. Intermittent nature of renewable power production shall be further tamed, innovations shall boost performance and quality of renewable power superior to conventional generation. The best of the innovations accelerate zero carbon electrification globally, improving sustainability and living conditions.
Eturnity: 1. Strive for better products (cost & resource effectiveness), ease of installation, & operation & maintenance 2. "Innovations" of the political frameworks + highly efficient processes. We can't stop climate change by only developing excellent technologies, we must be able to install them on a large scale 3. Address problems of system integration for renewables by applying e.g. sector coupling
Ferroamp: The renewable energy industry needs more innovations that provide a closer and simpler integration of different renewable energy devices such as PV, energy storage, electric vehicles, fuel cells as well as across different energy carriers. Standardization of protocols, functionality and APIs will be equally important in order to enable interoperability between devices from different manufactures.
Fronius: In the future we will focus on the electrification of all energy sectors such as heat and e-mobility in order to be able to completely compensate fossil fuels. The development of hydrogen technology will also be highly relevant for the long-term storage of green surplus energy.
Trina: It is vital that we reduce and ultimately eliminate dependence on subsidies, to make solar PV thrive on its own. Thus we need to focus on innovations – both in products and in processes – that will further drive down electricity cost. We also need to work on clever financing models that lower the entry barrier of investing in a renewable energy system, such as a PV array, for the general public.
Jinko: As the global PV market is rapidly moving towards high-performance modules to reduce system costs and initial upfront capital investment one of the main challenges for PV module makers is to find the best possible balance between customer value, technology innovation, and component standardization.
Please complete this sentence: "Renewable energy means to me / us ...

Ampner: ... to us that we can use our professional skills and contribute daily to the fight against climate change. By acting in the industry, we work continuously on leaving more sustainable planet for our kids."
Eturnity: ... life-changing future. It's a paramount technology to help reduce the severe impact that climate change has on our lives. It will be much more cost-effective & socially fair than our existing solution."
Ferroamp: ... a path toward meeting the climate goals and providing energy security with decentralized solutions. It is also an important solution for combating energy poverty."
Fronius: ... 24 hours of sun. 24h of sun is our vision of a world with 100% renewable energy. With the new GEN24 Plus we try to move one step closer to this vision."
Trina: …the core of our mission to let solar benefit mankind. We strongly believe that the transition to clean, reliable energy is vital for the quality of life and continued existence of humanity."
Jinko: ... developing highly innovative products with a customer and market-oriented mindset. We aim to find the best possible balance between technology and component standardization for."