Market Trend – September 7, 2023 | Sarah Hommel de Mendonça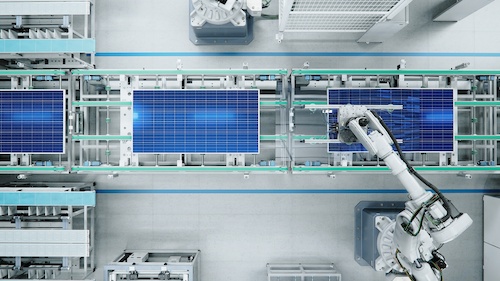 Working groups have been set up, funding pools have been topped up, and the requirements for PV production to thrive locally have been identified.
And even though the European Solar PV Industry Alliance (ESIA) launched by the European Commission is predicting that its own annual production capacity goal of 30 gigawatts (GW) will actually be exceeded by 2025, there's still no guarantee that Europe will be able to catch back up with the international competition and secure a leading position again when it comes to PV production.
Europe: Current PV production capacity
As it stands, 157 businesses are working on PV production within the European Economic Area (EEA). Here is the current production capacity in each area: solar modules 9.4 GW, solar cells 1.4 GW, inverters 69.9 GW, ingots and wafers 1.7 GW, and polysilicon 23.2 GW. The European industry association SolarPower Europe is presenting the current figures in an interactive map.
Sights set on 30 GW with gigawatt projects in Europe
According to the ESIA, 20 more projects are under development within the EEA at the moment. Over in Fos-sur-Mer in France, a company called Carbon is building the first fully integrated gigafactory in Europe to cater for every step in the production process, from producing polysilicon to manufacturing modules. The plan is to reach an annual production capacity of 5 GW for solar cells and 3.5 GW for solar modules from 2026 onward.
France was also chosen as the location for Europe's first-ever gigafactory for modules. The company Holosolis suggests that an annual production capacity of 5 GW is to be achieved in Moselle as early as 2025. And the Swiss company Meyer Burger is planning to expand the production capacity in two European locations – in Freiberg in Germany and potentially in Spain.
The aim is to add another 3.5 GW of module production capacity. Norsun, the only remaining manufacturer of ingots and wafers in Europe, is expanding its capacity by 3 GW in Norway. These last two businesses are receiving investment funding from the EU Innovation Fund for their plans – 54 million euros for Norsun and 200 million euros for Meyer Burger.
The investment conditions for PV production in Europe have partially improved due to funding being allocated within EU and national budgets. This is also attracting the attention of global players, for whom production in Europe is the next logical step in what is already one of their largest markets for sales. One example is the Chinese cell manufacturer LONGi. With 20 percent of its sales coming from Europe as it is, the company recently announced that it would be opening a cell and module production facility in Germany.
Chinese PV production is on a different level
Despite the positive market situation suggested by the developments relating to PV production in Europe covered above, there are still a number of challenges to overcome. There is no doubt that the biggest of those challenges is the competition between European products and solar technology coming from China. Chinese manufacturers have the benefit of scale, which, according to a study by Rystad, allows them to sell their products for as much as a third less.
Here's one example to illustrate the scale: Back in July 2023, Chinese PV manufacturer GCL-SI announced that it had commissioned a new 20-GW cell factory in Wuhu.
During the first six months of this year, solar modules with a total capacity of 85 GW were imported into Europe from China. The price pressure on European businesses is huge. With that in mind, it makes perfect sense that there are urgent calls to protect the local market.
Inflation Reduction Act encourages investments in USA
With the Inflation Reduction Act (IRA) having been introduced in the USA and the PV production segment booming right now, another obstacle stands in the way of production being revived in Europe. Generous CapEx and OpEx funding support on offer for clean technologies under the IRA is drawing more businesses looking for a new location to the USA.
It's not uncommon to hear about new gigafactories being commissioned there anymore. LONGi is leading the way again here by constructing the country's largest module factory in partnership with US project developer Invenergy, with the facility in Ohio having a capacity of 5 GW.
Electricity prices, red tape, and staff shortages
There are other location-related factors adding to the competition from east and west, which have caused the development of PV production to slow down in Europe. High industrial electricity prices are a problem in many countries, which causes products made locally to be more expensive than those made elsewhere. When it comes to solar modules, the production of polysilicon, ingots, and wafers is extremely energy-intensive. For example, businesses in Germany are currently paying around 0.26 euros per kilowatt hour (kWh).
In the solar nation Spain, the price is as high as 0.28 euros per kWh. At 0.15 euros, the situation is much better in France. And yet that's still way above the industrial electricity price in the USA, where it has been averaging at around 0.07 euros per kWh in 2023. Bureaucracy, staff shortages, and insufficient regulations are other major issues being faced in Germany and the rest of Europe.
PV for European countries in the interest of national security
The European Commission target is for at least 40 percent of new solar technology to be produced in Europe by 2030. And some action has already been taken with that in mind. The Net-Zero Industry Act regulates the expansion of PV production capacity in nation states – and determines which funding can be allocated to countries for projects of this nature (15–55 percent of capital expenditure, 20–60 percent for tax incentives, loans, or guarantees depending on the size of the business).
The European Commission is providing an additional 20 million euros for the RePowerEU plan from the European Recovery and Resilience Facility (PV Production in Europe Is Catching up).
Robert Habeck, the German Federal Minister for Economic Affairs, recently issued a call for applications for funding for PV lighthouse projects. The funds are being allocated from the German government's Climate and Transformation Fund. But industry experts agree that financial support for CapEx and OpEx isn't enough.
Carsten Körnig, CEO of the German Solar Association (BSW-Solar), calls for "(...) targeted support to be provided through resilience bonuses and auctions going forward so that a set proportion of PV systems can be produced in Europe. (...) We also recommend reinforcing the funding base and improving access to funding for potential investors through hybrid equity stakes in solar businesses for a limited time."
Local production supports sustainability
PV production in Europe is desirable because it will build resilience and create independence along the entire PV value chain. But there's more to it than that. Products made locally have a much smaller carbon footprint than imported products. It's also important that production is powered by clean green energy, while environmental and social standards are followed to the letter and emissions caused by transportation are avoided.
Intersolar Europe, the world's leading exhibition for the solar industry, will once again dedicate an exhibition space to PV production technologies in 2024 (hall A2). The exhibition will take place as part of The smarter E Europe at Messe München from June 19–21, 2024.