Side Event | June 15, 2023 | ICM | Event Language: English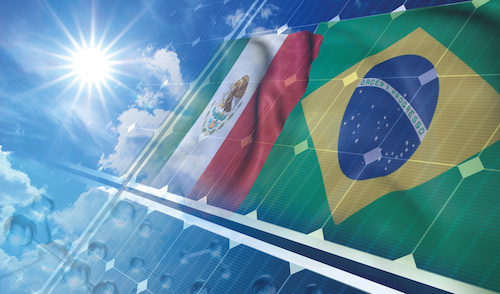 Intersolar has been active in Latin America for more than 11 years. Intersolar South America, which is held every year in São Paulo, Brazil, has become the largest PV event in LATAM. In addition, interest in the Mexican market is picking up, and Intersolar Mexico –now in its 4th edition– has been growing significantly.
As the leading solar markets in LATAM, Brazil and Mexico have extraordinary solar resources and very dynamic solar markets. This side event at The smarter E Europe –the world's largest get-together for the PV industry– will looked into past developments in LATAM's solar markets and discussed its current hot topics and its future potential. But most importantly – we celebrateed our great journey with you.
The event was hosted by The smarter E South America and Intersolar Mexico.
Quick Facts
Program
The side event was structured in three parts:
2pm–3pm Presentations: LATAM Market Updates & Opportunities
3pm–5pm Networking Round Tables
5pm–6pm Intersolar South America Anniversary Reception
Participation
Participation in the event was free of charge.
To register for this side event, visitors had to fill out the form and submit it by June 14, 2023. Registration was limited. In order to attend, visitors also had to register for The smarter E Europe, about which further information was sent to them.
Partners
Contact