PV Tech Power: "Intersolar Special" reports on the world's leading exhibition for the solar industry
The special edition "European solar under the spotlight" by PV Tech Power talks about the growth opportunities of the European solar industry, critically discusses the hurdles it faces, and presents both market leaders and emerging competitors. In a multi-part report, the magazine also discusses Intersolar Europe Restart 2021 (page 23-31) which recently took place in Munich. Following a more than two year break, the world's leading exhibition for the solar industry returned to Messe München from 6–8 October, 2021 in a compact Restart format – in perfect timing for its 30 year anniversary. Horst Dufner, Head of The smarter E Europe, reflects on the development of the local exhibition "Solar '91" into the world's leading exhibition for the solar industry and part of the innovation hub The smarter E Europe (page 23).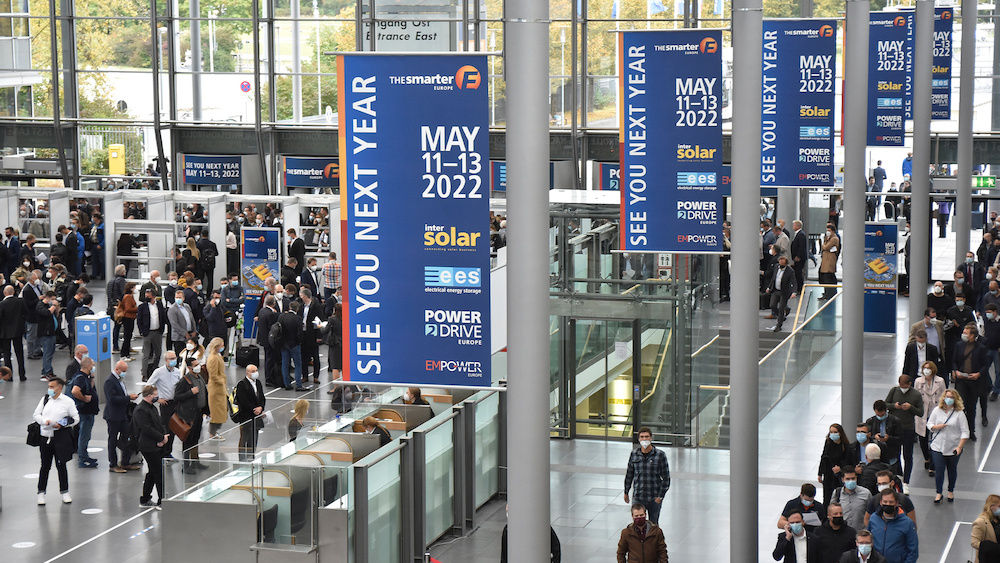 The Covid-19 pandemic has slowed down the growth of many industries, or even brought them to a complete standstill. However, the same cannot be said for the solar industry: The European photovoltaics (PV) industry is booming, the demand for them is rocketing. New players are flocking onto the market, innovative business models are being developed. But where is the PV market headed? What are the trends and innovations? The article "Intersolar Europe Conference 2021: Technology, Markets and Trends" (page 25 onwards) provides the answers. For instance, the package "Clean Energy for All Europeans", including its policies and regulations, has driven growth in the industry. With this package, the European Union aims for renewable energies to have a market share of 32% by 2030.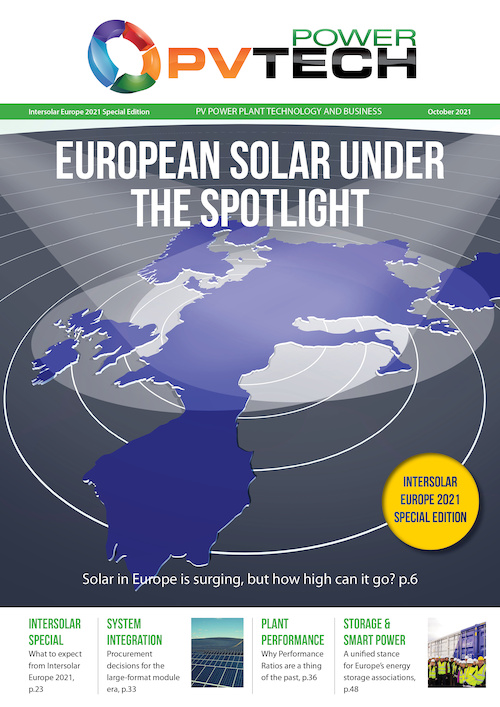 The article "Intersolar Trend Papers: Next generation cells, agrivoltaics, floating PV and the energy transition" (from page 27) addresses the trends of the solar industry. Alongside a rise in niche technologies, such as floating PV and agrivoltaics, the high performance of PV modules and decreasing PV costs have caused the industry to boom. This change is being driven by technical optimization as well as the use of larger wafers, half cell modules and the refinement of passivated emitter and rear cell (PERC) technology. High efficiency technologies such as silicon heterojunction (SHJ) technology, integrated back contact cells and PV tandem technology are becoming increasingly important. Looking at the first half of 2021, it became clear that the energy transition is gaining momentum and that the end of the oil and coal era is in sight.
From one exhibition to the next: The smarter E Europe, which encompasses the four individual exhibitions Intersolar Europe, ees Europe, Power2Drive Europe and EM-Power Europe, will take place from May 11–13, 2022, at Messe München. At the exhibitions, conferences, forums and other events, exhibitors, partners and visitors will discuss visions and pioneering concepts for the modern energy industry.