Press Release – Tuesday, June 13, 2023
Munich/Pforzheim, June 13, 2023. The transformerless string inverter SUN2000-330KTL for photovoltaic installations, the ABC modules which are among the highest-performing solar panels in the world and the LED-based measuring device SINUS-360 ADVANCED for testing solar cells are all exceptional innovations of the solar industry. The manufacturers behind them – HUAWEI Technologies, Shenzhen Aiko Digital Energy Technology and WAVELABS Solar Metrology Systems – were able to impress the panel of the Intersolar AWARD 2023. The award was presented today, on the eve of The smarter E Europe. Europe's largest platform for the energy industry, which encompasses four individual exhibitions – Intersolar Europe, ees Europe, Power2Drive Europe and EM-Power Europe – takes place at Messe München from June 14–16, 2023.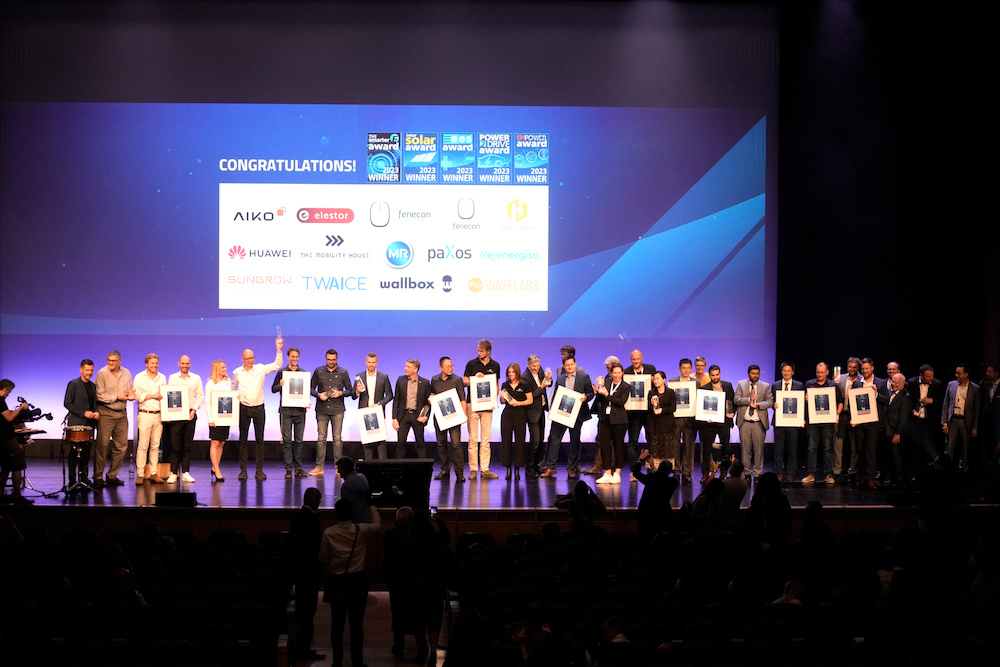 An international panel of judges has assessed the submissions for the Intersolar AWARD 2023 and selected three companies whose groundbreaking solar technology stood out the most. This evening, the winners accepted the renowned prize of the solar industry on a big stage in the International Congress Center München (ICM). As the award winners demonstrate, the solar industry sets trends for the new energy world – from high-performance photovoltaic (PV) modules and high-efficiency inverters to sustainable system solutions. Anyone wanting to check out the award-winning products and speak to the award winners and finalists will be able to catch them at The smarter E Europe at Messe München from June 14 to 16.
The winners of the Intersolar AWARD 2023
HUAWEI Technologies (China): SUN2000-330KTL
SUN2000-330KTL is a powerful, yet low-cost, string inverter for large-scale solar PV installations developed by HUAWEI Technologies. The transformerless inverter combines a very high performance of 330 kilowatts (kW) with a compact design and a European efficiency rating of 98.8 percent. With protection class IP 66 rating, it is also built to last. The SUN2000-330KTL also features new solutions such as triple DC protection, which prevents typical problems of PV systems from occurring, as well as a self-cleaning fan technology which reduces errors, lowering maintenance costs. It is compatible with all common solar panels. The panel's verdict: The smart and flexible inverter combines technologies that are based on artificial intelligence with modern, high-performance electronics – at a comparatively low price.
Shenzhen Aiko Digital Energy Technology (China): ABC modules
The ABC Modules created by Chinese company Aiko Solar combines n-type solar cells with passivating contacts and back-contact architectures to create some of the world's most powerful solar panels. The PV modules reach a capacity of 610 watts at 23.6 percent efficiency, significantly higher than most available panels. The glass backsheet modules have impressive temperature coefficients and a 30-year power warranty. In addition to technical excellence, Aiko Solar's new line features clean aesthetics and all-black variants, suiting a wide range of construction projects. The panel also praised Aiko Solar for metalizing their ABC modules without using silver, which significantly reduces silver consumption and is therefore more environment-friendly.
WAVELABS Solar Metrology Systems (Germany): SINUS-360 ADVANCED
WAVELABS, a company founded in Leipzig, Germany, is one of the world's largest producers of LED-based light simulators for measuring solar cells. Its SINUS-360 ADVANCED enables the accurate and ultra-fast characterization of PV cells in manufacturing, research, and testing. Its 27 individually controllable LED channels have a particularly homogeneous light field and are able to reproduce the lighting conditions of almost anywhere on Earth in a spectrally stable manner. The measuring device is capable of analyzing high-efficiency cells, including HJT, TOPCon and perovskite-silicon tandem solar cells. The SINUS-360 ADVANCED allows users to automate tests, measurements and data collections. Its modular design can also combine multiple analytical methods, such as electroluminescence and infrared inspection. The panel was most impressed with its light source being LEDs, its real-time light spectrum monitoring and the value creation across the entire supply chain.
Further information about the awards can be found at
www.TheSmarterE-award.com
www.intersolar-award.com
www.ees-award.com
www.powertodrive-award.com
www.em-power-award.com