Press Release – Thursday, June 4, 2020
Pforzheim, June 4, 2020: High-performance solar modules, innovative cell technologies and powerful inverters are among the pioneering products that have made it to the final round of the Intersolar AWARD 2020. The renowned prize honors pioneering technologies for the solar industry. The winners and their innovations will be presented to the market and an audience of international experts on a virtual stage on June 30, 2020.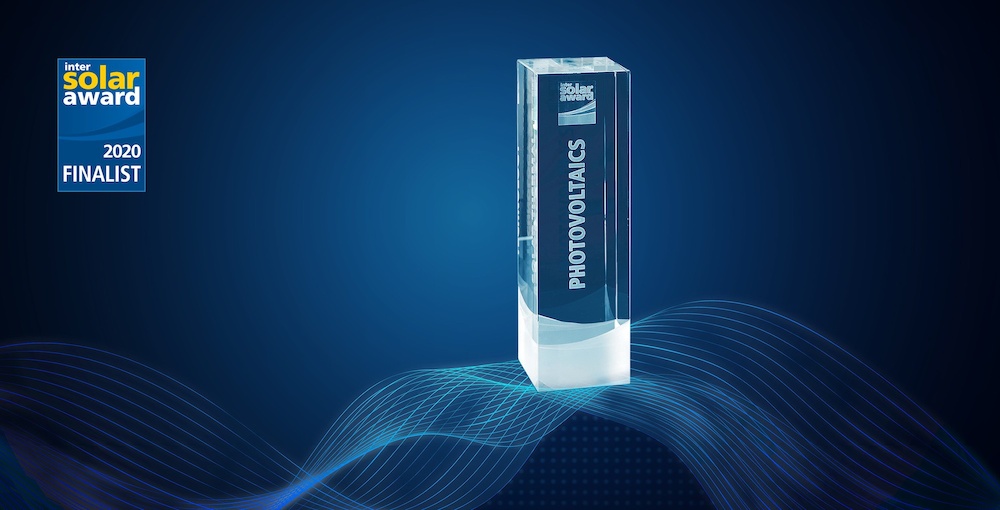 Despite the cancellation of Intersolar Europe 2020 and the postponement of Intersolar South America 2020 due to COVID-19, entrepreneurs will still receive the solar industry's flagship award, the Intersolar AWARD, for their pioneering solar technologies. This year, the award ceremony will be held online on June 30 – along with the ceremonies for the ees and The smarter E AWARD. The winners set trends and motivate the industry to shape the energy future with groundbreaking innovations.
Trend toward larger silicon wafers
While 166 millimeters is currently becoming the established edge length for monocrystalline wafers, some recent launches measure 210 millimeters. The objective is a marked boost in cell performance without any significant increase in production costs. Module outputs are now reaching 450 to 550 watts as a result. The growing size and weight of modules creates a challenge as they can be too large or heavy for the established substructures, while another problem is that photocurrents are much higher. For this reason, half-cut or even third-cut solar cells are becoming increasingly popular. At cell level, it remains to be seen which technology will make it possible to sustain the steady rise in efficiency ratings. While tandem technology is still in its infancy, many producers are already developing TOPCon (Tunnel Oxide Passivated Contact) technology with production volumes of several gigawatts.
New methods are increasingly being developed to better exploit the potential of building surfaces by making use of traditional flat and slanting roof components as mountings for esthetically pleasing photovoltaic systems. PV modules in a range of light colors with optional customization are available for façade installation.
The Intersolar AWARD 2020 finalists
For large-scale facilities, the trend toward string inverters with a high output and significantly increased power density continues. Applications with alternating current voltages of 690 V and more are making this possible. Sophisticated hybrid inverters are being developed for use in residential buildings, offering emergency back-up power for reliable protection when the public grid fails. There are also new developments in power electronics for direct current systems, which enable PV systems – not just small off-grid installations – to be directly connected.
Die Finalisten des Intersolar AWARD 2020
Ampner Ltd. (OY) (Finland): The Ampner ACE™ 300 PV inverter for PV parks boasts 1500 V technology and an impressive nominal output of up to 333 kVA with outstanding power density. The system is divided into a main unit and a connection unit, making installation less labor-intensive. It is also extremely robust, able to withstand both very high and very low temperatures and function at altitudes of up to 4,000 meters.

BayWa r.e. renewable energy GmbH (Germany) & Zimmermann PV-Stahlbau GmbH & Co. KG (Germany): The integrated BayWa r.e. Floating PV Solution based on ZimFloat, a joint solution by BayWa and Zimmermann, makes it possible to safely and efficiently utilize bodies of water for solar power generation. The ZimFloat substructure system comprises walkways and maintenance ways, cable ducts, inverter boats and wave barriers.

Eturnity AG (Switzerland): The Integrated Simulation Platform for yield simulation allows PV installers to generate sound and transparent quotations for their end customers. Battery systems, heat pumps and electric vehicles can all be taken into account in the simulations. Extensive libraries make it easy for installers to generate realistic yield calculations for their customers.

Ferroamp Elektronik AB (Sweden): With the Generic Solar String Optimizer, solar power can be fed directly into direct current systems such as charging stations for electric vehicles. The optimizer has been designed for larger residential systems, with a capacity classed at 16 kW and an output voltage which can be selected within the range from 400 to 800 V. It comes with a maximum power point (MPP) tracker and a multitude of protective functions.

Fronius International GmbH (Austria): The Fronius Symo GEN24 Plus is a highly sophisticated hybrid inverter for operating a PV system in combination with a domestic storage system. Alongside the integrated back-up function for power outages, the Symo GEN24 Plus boasts high efficiency, flexible connection options, an innovative cooling concept and simple installation.

NanoPhos SA (Greece): The photocatalytic coating SurfaShield G by NanoPhos is based on nanostructured titanium dioxide and can be applied to PV modules during production or after installation. The particle-resistant, self-cleaning coating increases the yield of PV systems and considerably reduces the need for cleaning.

REC Solar EMEA GmbH (Germany): The solar panels of the REC Alpha series make the most of the advantages of heterojunction technology, with 21.7 percent efficiency and a temperature coefficient of just 0.26 percent per degree Celsius. The PV module also boasts sophisticated wiring, reducing its lead content by 81 percent and bringing a completely lead-free PV module within reach.

Sungrow Power Supply Co., Ltd. (China): The SG250HX is a string inverter for large-scale PV plants which boasts an impressively high nominal power rating and a sophisticated design that makes it perfectly suited to the usage profile. This includes an extended input voltage range, twelve independent MPP trackers per device, an extremely high European weighted efficiency of 98.8 percent, and a Q@Night function.

Trina Solar AG (Switzerland): The Vertex module has an output of more than 500 W, which is achieved by 50 solar cells with an original edge length of 210 millimeters. To minimize resistance losses at the same time, the wafers – which are just 70 to 80 percent larger than the current standard – are produced using three-piece, non-destructive cutting. Together with the extremely small inter-cell gap of 0.5 millimeters, this allows the Vertex to achieve 21 percent efficiency.

Zhejiang Jinko Solar Co., Ltd. (China): In the Tiger N-type module with Tiling Ribbon technology, the cells within each string are extremely close together, ensuring a smooth appearance. The Tiger module has an efficiency rating of 21.6 percent. Nine round connectors – instead of the previous five – reduce light reflection and resistance loss. The connectors' special design makes the module particularly reliable.
Further information on the awards can be found here:
www.TheSmarterE-award.com
www.intersolar-award.com
www.ees-award.com
Image source: © Solar Promotion GmbH